Today, we will explore the top 500 companies in the world with Tableau! (Inspired by touching Tableau at work non-stop and assisting with lots of queries for the past two weeks! Yes, I keep getting inspired from work.)
Recently, I had the chance to use Analytics Software, Tableau at work, which reminded me that I have a student license which has recently been renewed during my digital marketing class. While I could, it's time to demonstrate the capability of Tableau to be showcased on my blog. One of the reasons why I would use Tableau is the ease of use. Of course since that comes with a hefty price tag, we could always use PowerBI (too bad I'm a Mac User here though so no PowerBI for me!)
Where are Fortune Global 500 Companies Located?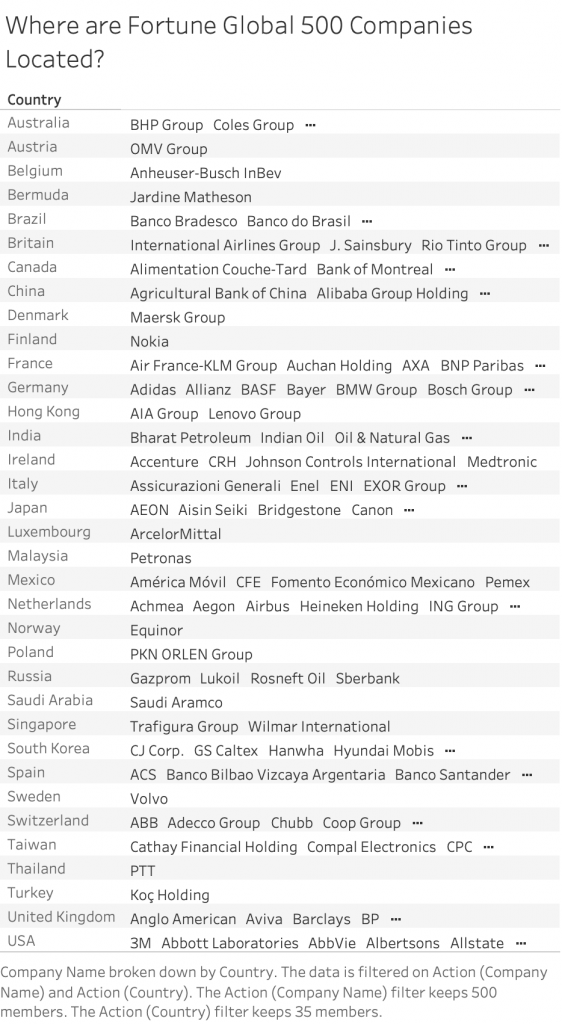 Fortune Global 500 Companies are Located in a total of 35 countries. The countries are:
Australia, Austria, Belgium, Bermuda, Brazil, Britain, Canada, China, Denmark, Finland, France, Germany, Hong Kong, India, Ireland, Italy, Japan, Luxembourg, Malaysia, Mexico, Netherlands, Norway, Poland, Russia, Saudi Arabia, Singapore, South Korea, Spain, Sweden, Switzerland, Taiwan, Thailand, Turkey, United Kingdom, USA.
Which Countries Have the Most Fortune Global 500 Companies?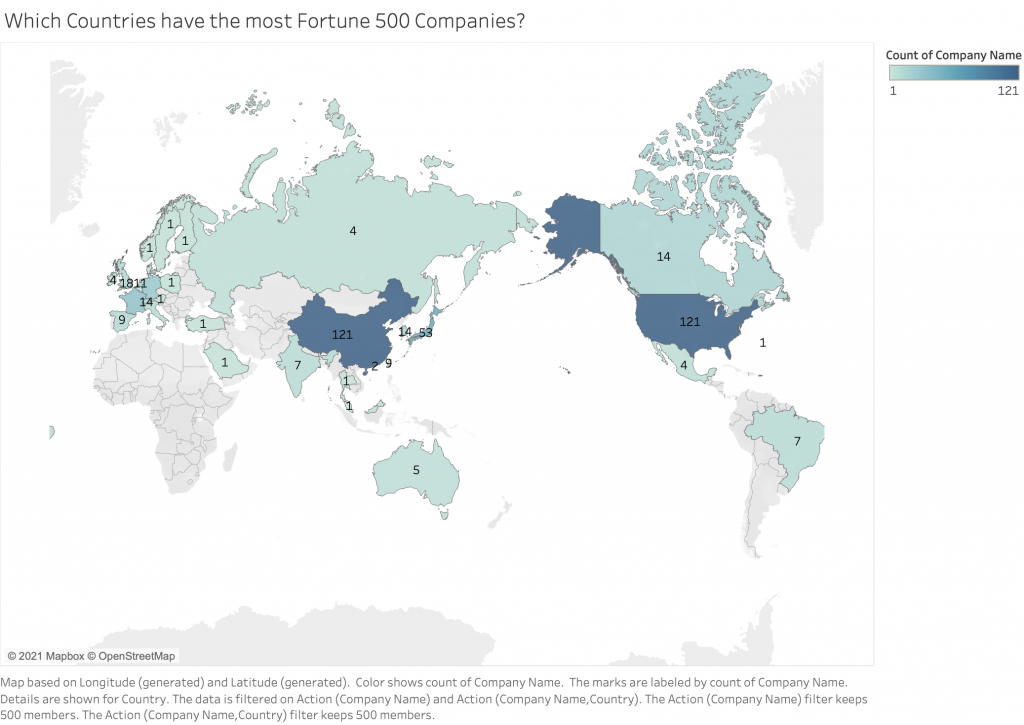 Well a surprising answer to the question! We managed to get a tie between the USA and China, with 121 Companies in the Fortune Global 500 in 2020 each!
Which Country has the Most Total Revenue Earned by Fortune Global 500 Companies (In USD Millions)?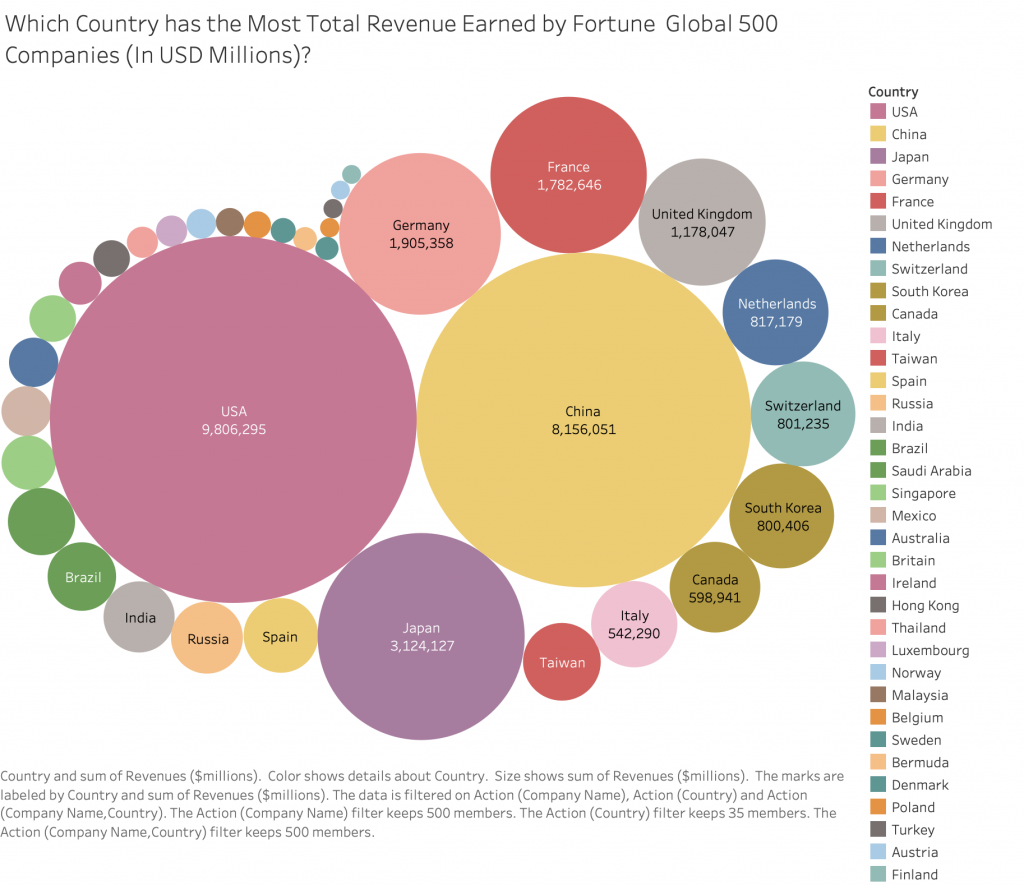 Despite having the same number of Global 500 Companies in USA and China, the companies in the USA has generated above 20% more revenue than in China in 2020. The third largest revenue is generated by Japan, followed by Germany, France, UK, etc.
Which Fortune Global 500 Companies Hire the Most Employees?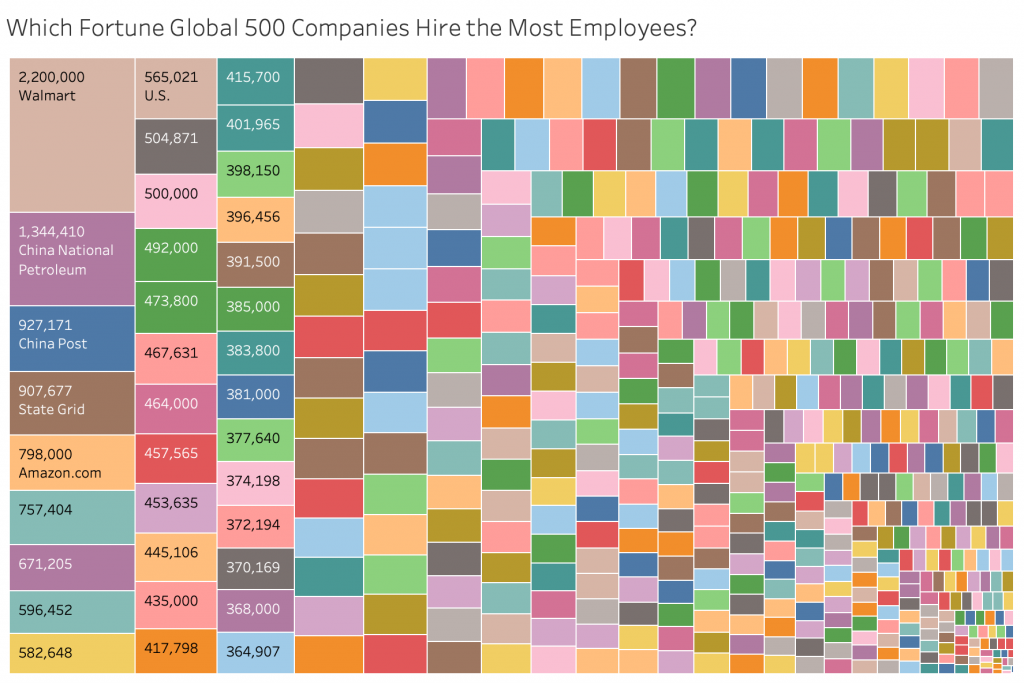 In 2020, the company which hired the most employees is Walmart, at 2.2 Million, that is about 1/3 of Singapore's (My Home Country) Population!
Dashboarding and Filtering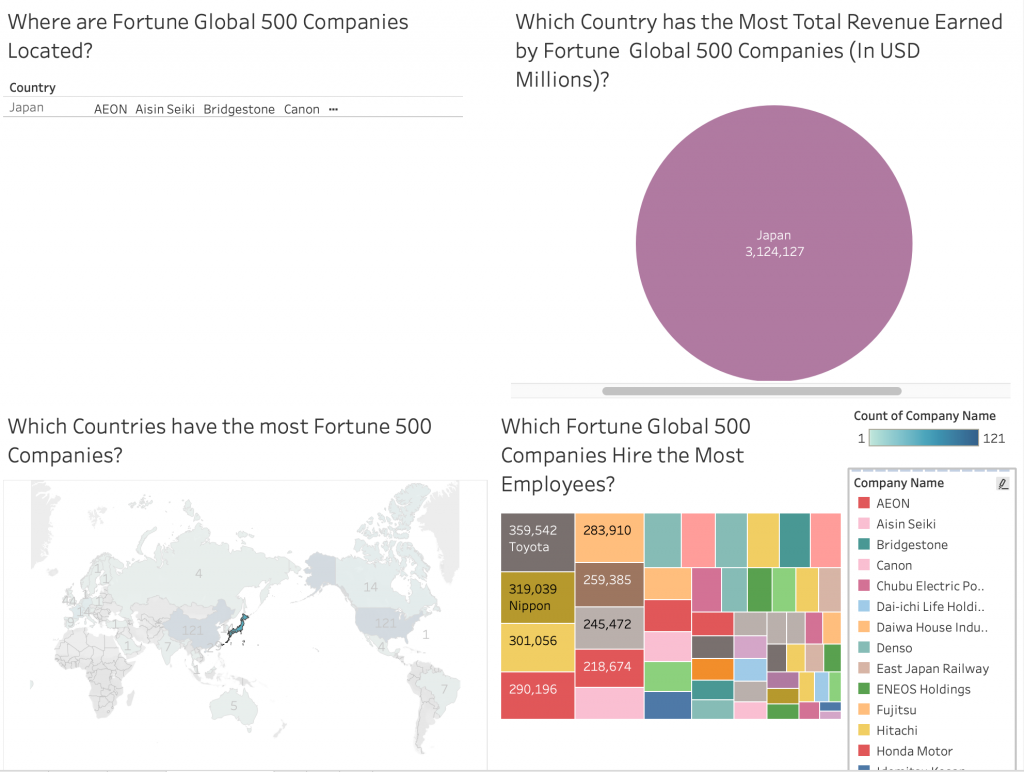 Since we have talked enough about China and USA, I decided to take a look further into a third country on the list, Japan. I clicked on Japan on the world map to filter the revenue earned, as well as seeing the largest Japanese companies in terms of Employment. The largest Fortune Global 500 employer in Japan is Toyota, with 360k employees, followed by Nippon with 319k employees.
Do you know what else comes from Japan? Ramen, and here's some pricing analytics on Ramen prices!
Wow it's quite hard to show this analysis on the blog, perhaps it is time to create a new YouTube Channel on the analysis or something to show videos.
Will definitely miss having Tableau once my student license expires.
Hope you liked our Analysis of the Global 500 Companies. Now that we are done analysing companies, how about analysing universities in Singapore?
If you liked this page, do bookmark this site, or follow us on our LinkedIn page.
Image Credits: Original Artwork by Tan Wei Xiang
Data Source: https://www.someka.net/excel-template/fortune-500-excel-list/