Merry Christmas! (Slightly late!) Growing up, Christmas jingles seem to be the part and parcel of every Christmas season, being played at many retail spaces around Singapore (and I'm sure it is in many other parts of the world too.) We've decided to carry out analytics on some common Christmas Songs which we recall from a list found online. We then searched for the lyrics data through Google before analysing the data. Presenting to you the word clouds for Christmas. Hope you will like the post and do follow us on our LinkedIn.
Twelve Days of Christmas
Well it comes as no surprise for this to be the word cloud for the Twelve Days of Christmas, given that "for the x day of Christmas my true love gave to me … a partridge in a pear tree!" gets repeated 12 times and the whole phrase has no repeats.
Jingle Bells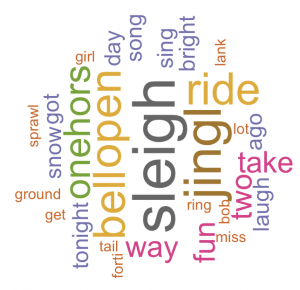 Well surprisingly, sleigh appears to be the most common word used, because we only inputted the chorus in once, and the verses mentioned sleigh a few times.
Santa Claus is Comin to Town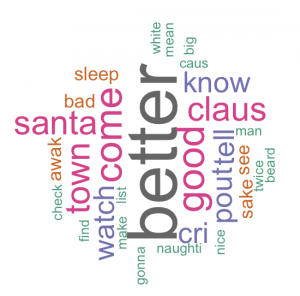 Whoever wrote this song was definitely really sharp at using better in a lot of phrases, along with good coming in next place. Despite having shout and cry in the lyrics, the word better has been strategically used to give off the positive connotations in the song to be good and better. Did you realise that previously? Let us know in the comments below.
Rudolph the Red Nose Reindeer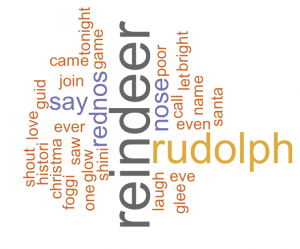 No wonder we remember reindeers are supposed to have red noses!
Rockin Around the Christmas Tree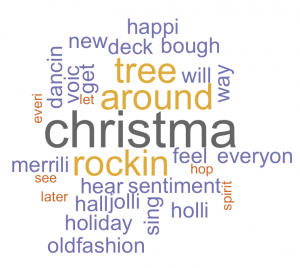 Rock around the Christmas Tree! Another catchy song which repeats the same over and over. Maybe this is the secret formula to a great Christmas song.
Let it Snow! Let it Snow! Let it Snow!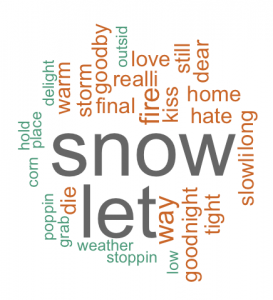 Speaks for itself, just repeat the title non-stop and you're ready to launch your next Christmas hit! Thank me when you're famous.
Jingle Bell Rock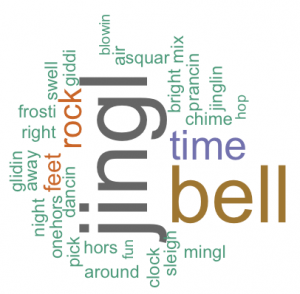 Well the writer of this song definitely took repeating the title non-stop to a whole new level, even including jingle and bell in the verses. Jingle was repeated for a total of 28 times!
Last Christmas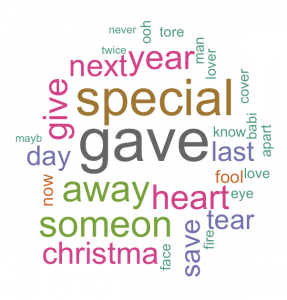 Well we finally have another formula for Christmas songs, it is to make the audience feel special and the idea of giving gifts and all through negative words with positive meanings. The writer is using the Santa Claus is coming to town formula to succeed.
Conclusion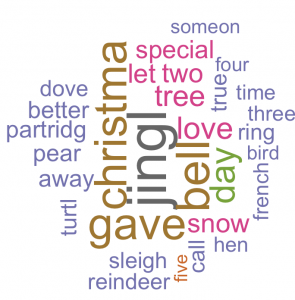 Overall, if you want a hit Christmas song, think of Jingle Bells or the thought of giving, or just mentioning the word Christmas works too. You could give it a shot using negative lines but add words with positive connotations or just repeat the title non-stop.
You are now on track to become the next Christmas Song writer! Hope you liked the post, do follow us on LinkedIn, and Bookmark this site. Merry Christmas and Happy New Year!
Image Credits: Photo by Jonathan Borba on Unsplash
Like more text analytics? Do look at our post here!